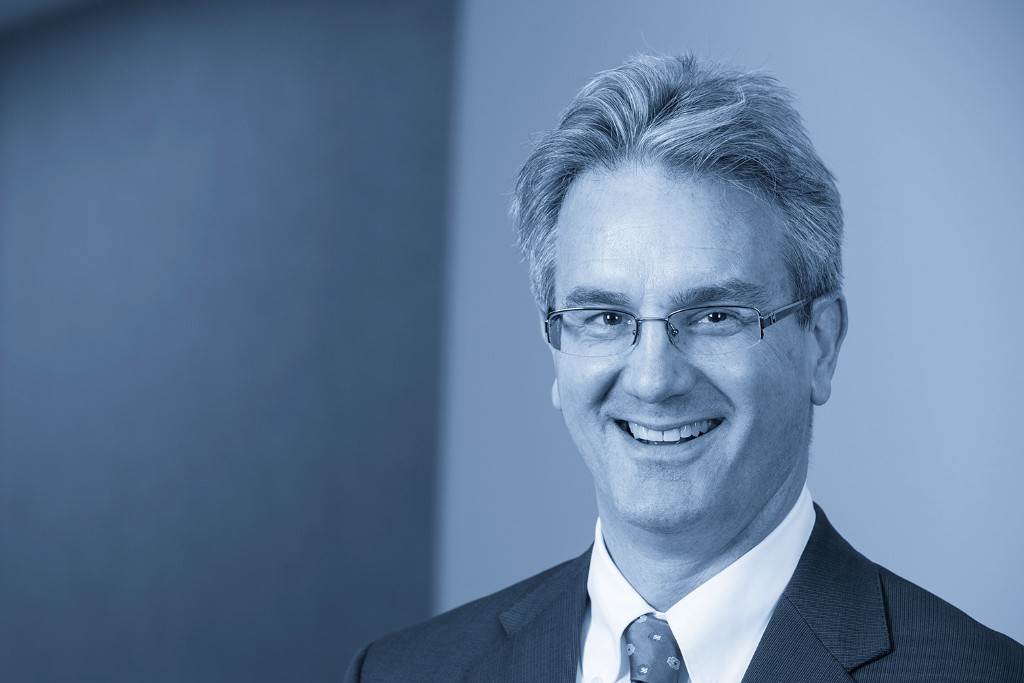 Large Cap Growth
Large Cap Commentary – December 2017
10 January 2018
December closed out a strong year for the market, and for Argent clients. Now, the fun begins anew. January of 2018 will open with earnings for the fourth quarter of 2017 and guidance for the year.
Last month I highlighted the value of the market which, for the first time in nearly nine years, is slightly over 'normal.' Given the robust returns investors enjoyed in 2017, a slightly overvalued market may not be a surprise and we would agree. Where we expect to spend much of our time in the coming year is looking for companies and areas that are benefiting from better economic trends, both in the United States and abroad, but that may not have participated as fully in the market's recent gains.
One area that appears to fit that bill is the energy sector. You may have noticed that it is costing a bit more to fill up your car at the gas station than it did just a few months ago. West Texas Intermediate (WTI), the benchmark for oil in the U.S., started 2017 at just under $54 per barrel. From there, WTI sank to $42.50 per barrel in late June, before rising through the rest of 2017. Oil closed 2017 at $60 per barrel, a level not seen since the middle of 2015.
Driving the price of oil upwards is the continued recovery of the world economies. This improvement of world's economies has been coupled with production cuts on the part of OPEC and other oil producing countries, in particular Russia. In the past, OPEC's success in reining in production on the part of its members had been spotty, at best – however, adherence to production quotas has been surprisingly strong.
With higher oil prices, investors have begun to pay closer attention to the capital expenditures (capex) of North American exploration and production (E&P) companies. Historically, as oil prices rose, capex rose – more money for the E&Ps meant more spending. Naturally, the E&Ps spent money to produce more oil and that spend often went into the pockets of oil field service companies that provide the logistics and equipment to find and drill for oil. Currently, we hold Schlumberger (SLB) in our Large Cap portfolio. SLB is largest oil field service company in the world.
The chart below shows the relationship of the price of oil (WTI) and the price of a basket of oil field service companies (OSX). Peculiarly, OSX stocks have not kept pace with the increase in the price of oil. We believe this may represent an opportunity in 2018. If the OSX were to re-couple with the price of oil, we believe SLB and other energy-related companies would rise from their current levels. Stay tuned!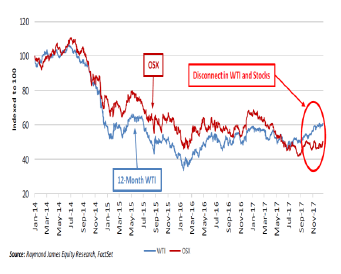 Coming away from a very strong year in the market, valuations for particular stocks and industries are not as compelling as they were last year. Fortunately, because we apply a disciplined and very selective investment approach at Argent, we are still finding areas of opportunity going into 2018, including in the energy sector. We now have four successful equity strategies – Large Cap, Small Cap, Dividend Select and the recently introduced Mid Cap. We are very proud of all, and if you have questions on any of these, or know others who might have an interest in our strategies and mailings, please call us.
Ken Crawford,
Senior Portfolio Manager
Past performance is no guarantee of future results. Views expressed herein represent the opinion of the portfolio manager as of the date above and are subject to change. The information provided in this report should not be considered a recommendation to purchase or sell any particular security. You should not assume that investments in any securities within these sectors were or will be profitable. A list of stocks recommended by Argent in the past year is available upon request.