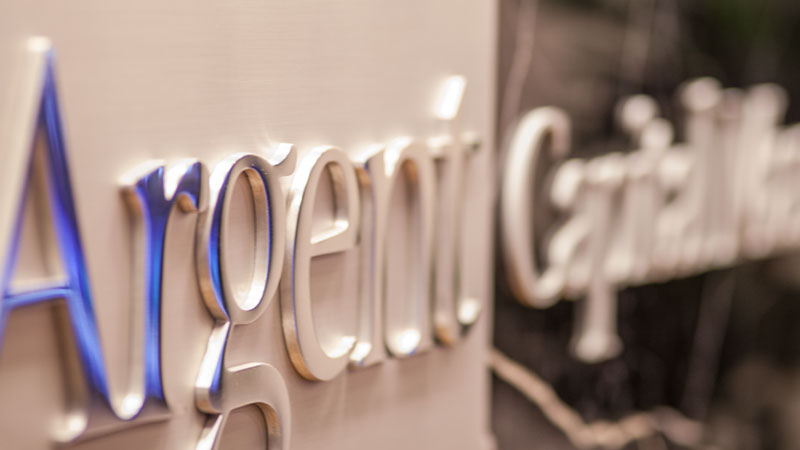 Small Cap
Small Cap Commentary – 4Q17
05 February 2018
With the year behind us, Argent's Small Cap Core portfolio had a strong year up 17.2% (net of fees) and ahead of the Russell 2000® at 14.7%.  It also finished the quarter up 4.1% (net of fees) ahead of the Russell 2000 Index at 3.3%. We are very proud of our results but it is important with portfolio management not to rest on your laurels.
Throughout the fourth quarter, investors were inundated with financial commentators discussing the potential changes to tax laws.  The new tax plan finalized in December reduces the corporate tax rate from 35 percent to 21 percent. Small cap stocks, in general, have much of their sales in the U.S. and consequently pay high taxes. Thompson Reuter's data shows that companies in the Russell 2000 have a median effective tax rate of 32 percent while the larger, multinational companies in the S&P 500® pay a median effective tax rate of 28 percent. Since small cap companies generally bear a heftier tax burden than larger companies, small cap companies are seen as more sensitive to the new tax cuts. What we are researching now is how these companies will choose to use the additional cash flow. What we do know is that the tax cut won't have uniform benefits across the entire small cap asset class. We need to study how the tax overhaul impacts each individual business— cash flow, balance sheet, and earnings outlook.  At Argent, we would prefer to see companies use the additional cash flow to continue investing in their businesses through acquisitions or new product development­—all activities that could drive higher sales and margins.  We would also hope to see shareholder friendly moves such as higher dividends, stock buybacks or corporate debt reduction.
Two of our Consumer Discretionary stocks, Pinnacle Entertainment (PNK) and Monarch Casinos & Resorts (MCRI), saw success in the fourth quarter and over 2017.  Both of these gaming and hospitality companies will recognize advantages of the tax cut in two ways. First, as high U.S. taxpayers they should see improved cash flow as they benefit from the lower tax structure. Secondly, a lower tax for consumers usually leads to higher spending on entertainment. MCRI has expansion plans in Reno that could be accelerated from the improved cash flow of lower taxes.  PNK owns the Ameristar and River City Casinos here in St Louis and is being acquired by Penn National Gaming (PENN).
Although the majority of the focus this quarter has been on the beneficiaries of the tax cuts, we are also finding opportunities beyond this space. One area of consideration is in economies outside of the U. S. The International Monetary Fund stated that recent growth has been more broad based than at any point since the beginning of this decade. This global expansion has been referred to as "synchronized global GDP growth."  A good example of a small cap company that could take advantage of this is Triton International Ltd. (TRTN). Triton leases traditional and specialty containers to nearly every major container shipping line in the world. As global synchronized growth fuels improved economies around the world, the shipping of goods should increase.
We appreciate your interest in Argent Capital Management. We now have four successful equity strategies- Large Cap U.S., Small Cap U.S., Dividend Select, and the recently introduced Mid Cap U.S. We are very proud of all, and if you have questions on any of these, or know others who might have an interest in our strategies and mailings, please call us.
—
Eddie Vigil
Portfolio Manager
Performance results are net of fees. This is supplied as supplemental information to the composite disclosures presented later in this document. Past performance is no guarantee of future results. Russell Investment Group is the source and owner of the Russell Index data contained or reflected in this material and all trademarks and copyrights related thereto. The presentation may contain confidential information and unauthorized use, disclosure, copying, dissemination or redistribution is strictly prohibited. This is a presentation of Argent Capital. Russell Investment Group is not responsible for the formatting or configuration of this material or for any inaccuracy in Argent's presentation thereof. The information provided in this report should not be considered a recommendation to purchase or sell any particular security. You should not assume that investments in any securities were or will be profitable. A list of stocks recommended by Argent in the previous year is available upon request.