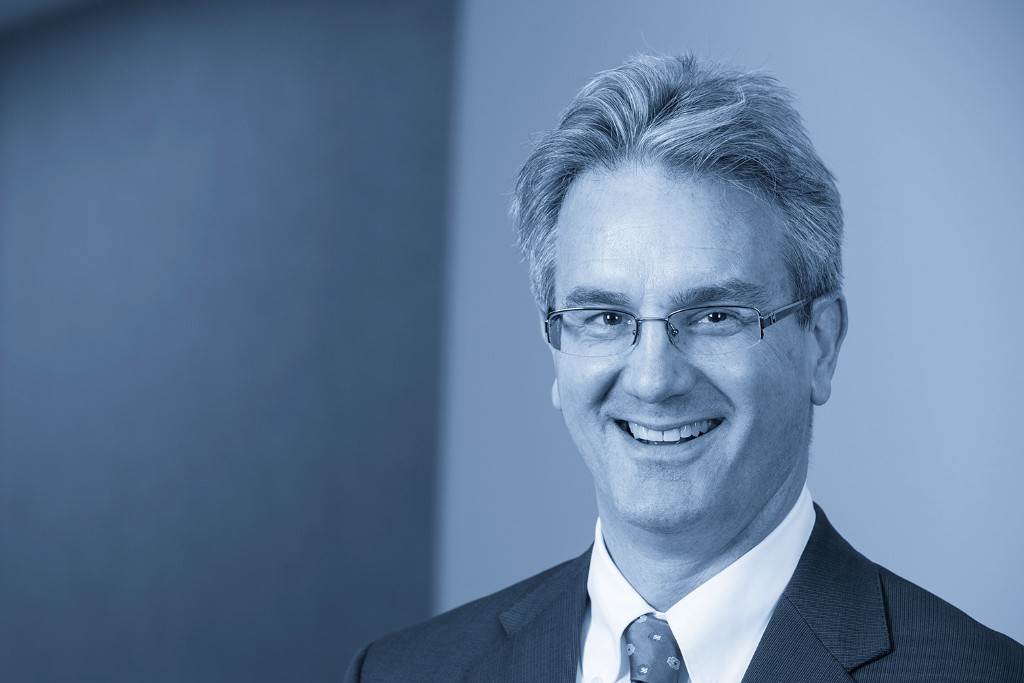 Large Cap Growth
Large Cap Commentary – May 2018
12 June 2018
If we look at the market today, it is more fairly valued than not. Digging deeper, however, the skew between growth stocks and value stocks has widened. Directionally, this skew has been going on for the past eight years, although it has accelerated for the past year and a half. While we do not believe the market as a whole is overvalued, certain market segments and particular stocks give us pause.
Recall, a key component of Argent's investment process is identifying companies where the upside potential for any stock we add to the portfolio is considerably greater than its downside. Finding favorable upside for 'growth stocks' has become harder to do as of late.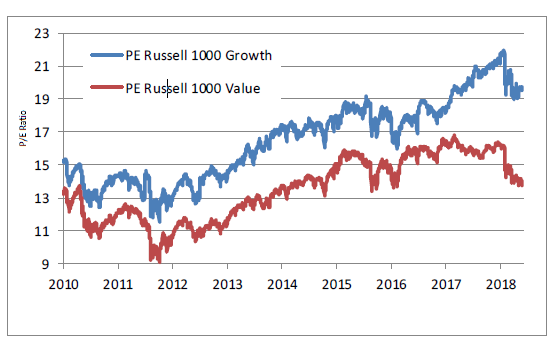 At left is a graph that shows the price-earnings (PE) ratio of the Russell® 1000 Value Index compared to the price-earnings ratio of the Russell® 1000 Growth Index. What you can glean from the graph is that investors have been willing to pay more for a dollar of earnings for a growth stock than they have for a dollar of earnings for a value stock. That spread has been widening, especially since the beginning of 2017.
At Argent we look for change; change that will drive better fundamental performance for an individual company. As a result, in general, we lean toward growth-oriented companies. Not surprisingly, we have found companies with positive change and compelling valuations of late in what investors would think of more as 'value stocks' – companies like Target (TGT) or First Data (FDC), which have strong franchises but what we believe to be depressed valuations.
This highlights a positive aspect of Argent's investment approach. We try to be disciplined and consistent in the traits we look for in a stock, yet be flexible in that we will look for the right traits across both the growth and the value spectrum. Just as we added MasterCard (MA) and Google (GOOGL) to our portfolio in early 2009, when fear pervaded the market and growth stocks were unduly cheap, today value stocks are rising to the surface of our investment process – these are now the stocks that are realizing positive change while becoming relatively less expensive. In short, we believe these kinds of stocks will drive performance of our strategy for the next three to five years, given where the market is pricing 'growth' relative to 'value.'
We have four successful equity strategies – Large Cap, Small Cap, Dividend Select and the recently introduced Mid Cap. We are very proud of all, and if you have questions on any of these, or know others who might have an interest in our strategies and mailings, please call us.
Ken Crawford
Senior Portfolio Manager
Past performance is no guarantee of future results. Views expressed herein represent the opinion of the portfolio manager as of the date above and are subject to change. The information provided in this report should not be considered a recommendation to purchase or sell any particular security. You should not assume that investments in any securities within these sectors were or will be profitable. A list of stocks recommended by Argent in the past year is available upon request.