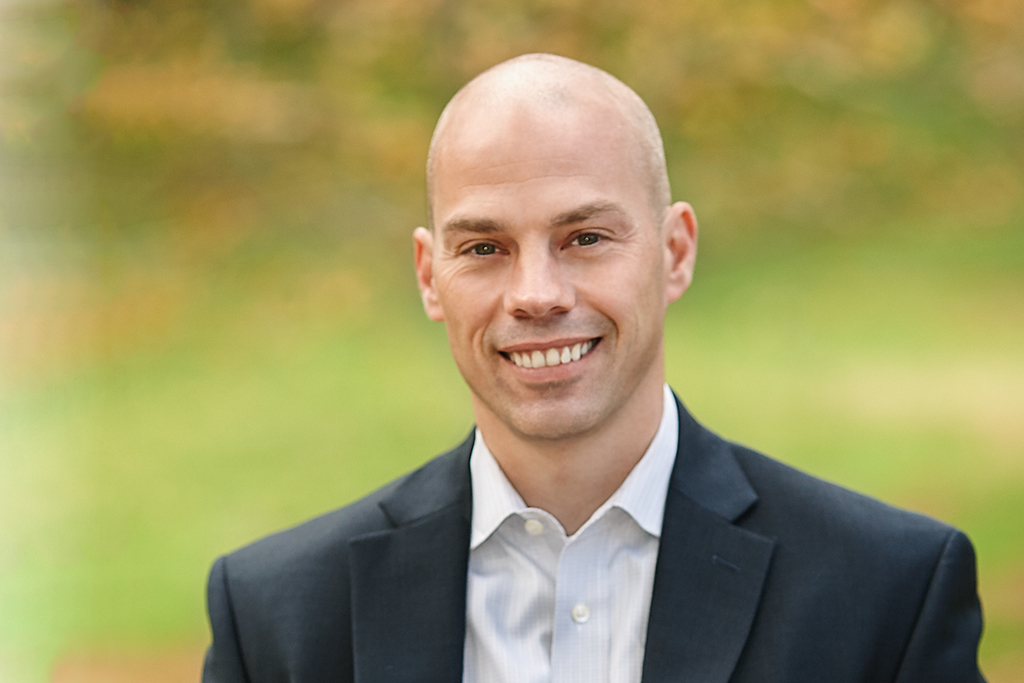 Dividend Select
Dividend Select Commentary – 4Q18
15 January 2019
As the end of 2018 comes to a close, I've been spending some time thinking about dividend stocks in a year where the market has experienced broad based declines. Keeping a long-term perspective is important and having exposure to income- generating stocks has some real advantages. In general, dividends are less volatile than earnings over time. If a company offers a dividend, they are usually cash-rich and can ride out difficult markets. A commitment to a dividend shows a priority in returning cash to shareholders, and a strong business. These are two elements which help drive long-term capital appreciation for a company. Additionally, dividend-paying companies offer two ways to profit: dividend income and capital appreciation.
When illustrating the advantages of a sound dividend investment strategy I often muse over Aesop's famous fable of "The Tortoise and the Hare." The moral of the story is that you can be more successful by doing things slowly and steadily than by acting quickly and carelessly. There is a common myth that dividend strategies are stale and boring, but according to the Hartford Funds, from 1930-2017, dividends accounted for about 42% of the S&P® 500 Index's total return. That statistic is exciting to me. Digging deeper, while it may seem counterintuitive, since the end of January 1972, returns of S&P 500 dividend paying companies outperformed those of non-dividend paying stocks in the index (see chart below). During the same time period, companies that consistently grew their dividends outperformed those companies that did not grow their dividend.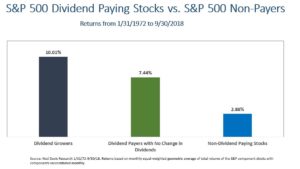 Argent's Dividend Select strategy looks for companies that have a history of dividend payments and consistent annual dividend growth. I recently ran some numbers for a client in the Argent Dividend Select Strategy which proved to be eye-opening. Using a one million dollar investment in the Dividend Select Strategy in 2009, the investment would be worth over $2.9 million at the end of 2018. That is 190% return on your investment. Furthermore, this investment generated dividend and interest income totaling $606,185 from 2009-2018 (see chart on following page). We at Argent try to look beyond the short term investing fads and invest for the long-term. Having a "slow and steady" investment strategy in your portfolio can help in winning the race.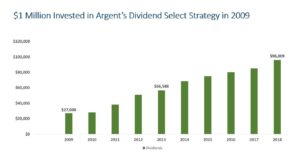 As always, we appreciate your interest in Argent Capital Management. We have four very successful equity strategies – Large Cap U.S., Small Cap U.S., Dividend Select, and Mid Cap U.S. We are very proud of all, and if you have questions on any of these, or know others who might have an interest in our strategies and mailings, please call us.
Sincerely,
Scott Harrison, CFA
Portfolio Manager
Performance results are net of fees. Past performance is no guarantee of future results. This is supplied as supplemental information to the composite disclosures presented later in this document. The information provided in this report should not be considered a recommendation to purchase or sell any particular security. You should not assume that investments in any securities were or will be profitable. A list of stocks recommended by Argent in the previous year is available upon request. Views expressed herein represent the opinion of the portfolio manager as of the date above and are subject to change.