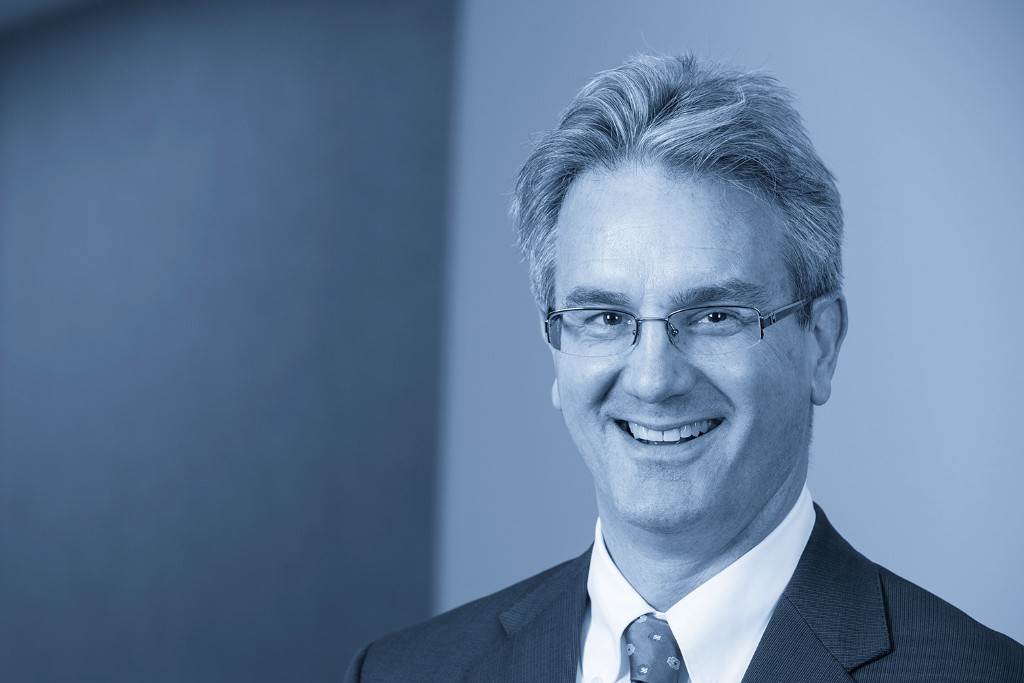 Large Cap Growth
Large Cap Commentary-February 2019
15 March 2019
2018 was a difficult year for the market as a whole, but especially difficult for cyclical companies. You will recall, cyclicals are those companies whose fortunes are more closely tied to the economy. A growing economy helps cyclicals' sales and earning; a contracting economy…not so much. As an example. think homebuilders, or auto and machine manufacturers. These companies can be contrasted with defensive companies- food producers, soap manufacturers, electricity generators, for instance, where demand for their product varies little with the economic cycle.
So, as mentioned, cyclicals had a rough 2018 and, despite only minor changes in earnings expectations, the price of most cyclical company shares fell to levels that were hard to justify. Cyclical stocks owned by Argent were not exempt from this sell-off.
The chart below shows how cyclicals have done relative to defensive stocks. When the line showing relative performance is below the bold straight line cyclicals are underperforming. Notice how poorly they performed in 2018, yet note the recent upturn in relative performance on the far right of the chart. We believe that 2019 upturn is indicative of the market "normalizing" and coming back to more economically sensitive companies. There would be two logical reasons for that- first, the outlook for the economy has improved and, second, investors have realized that valuations of these companies were compelling.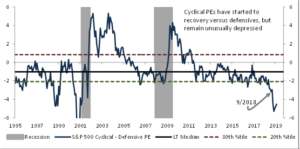 As the market has improved, we have made a few changes to our Large Cap strategy in early 2019. Of the new names to the strategy there is one in particular that I would like to flag, Crown Castle. Normally, REITs are relatively low growth, stable real estate holdings. We expect Crown Castle to manifest the 'stable' part of REITs, but what has us particularly enthused about Crown Castle is its growth potential. Crown Castle builds antennas and towers for wireless communication and the U.S. and the world are slowly migrating to the next generation in wireless telecommunications- 5G. We expect that change in the industry will increase Crown Castle's revenue growth, making the company truly a growth REIT, and a very good fit for our process.
We have four successful equity strategies – Large Cap, Small Cap, Dividend Select and Mid Cap.  If you have questions or know others who might have an interest in our strategies and mailings, please call us.
Sincerely,
Ken Crawford
Senior Portfolio Manager