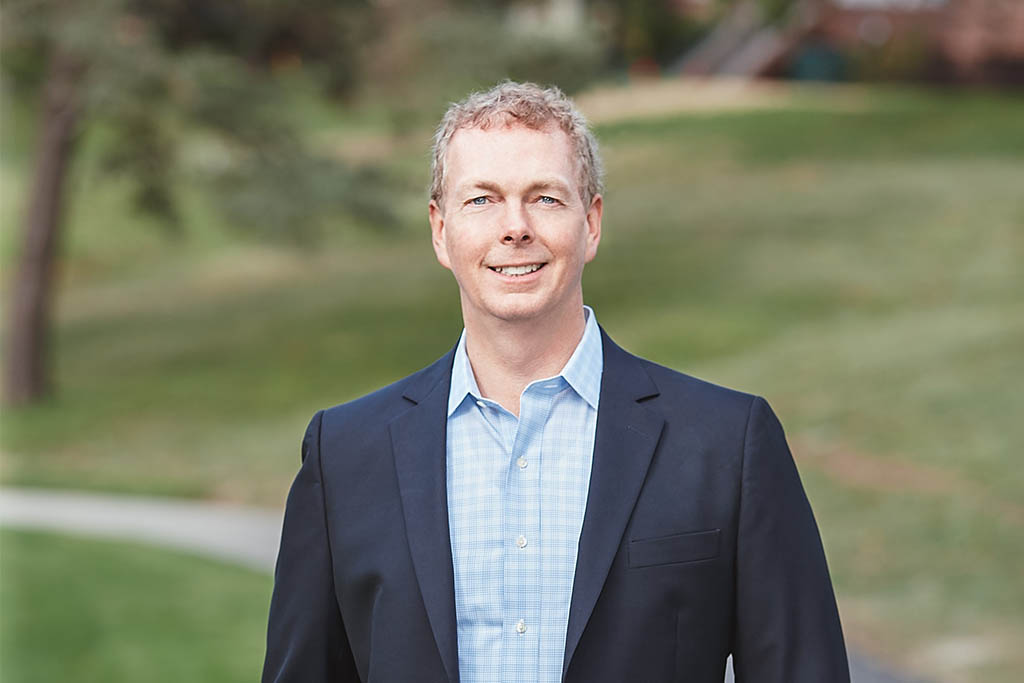 Mid Cap
Mid Cap Commentary – 4Q19
14 January 2020
The Argent Mid Cap strategy is close to finishing its sixth successful year for our clients and it has been a fun one. For the fourth quarter of 2019, Argent's Mid Cap strategy returned 9.1% (net of fees) ahead of the Russell Mid Cap® Index return of 7.1%. While we are happy to deliver this type of short-term performance, Argent is focused on investing for the long-term and we are particularly excited that our strategy continues to outperform the Russell Mid Cap on a trailing one-year, three-year and since-inception basis (net of fees).
At Argent, we see numerous signs that faster economic growth is on the horizon. These signs include surveys of manufacturing activity that are moving higher, a strong homebuilding sector as well as consistently good jobs data. Moreover, if trade agreements with Canada, Mexico and China are signed, this will be an additional positive for the economy. The stock market, however, does not seem convinced that faster growth is coming. This can be illustrated by the fact that economically sensitive, or cyclical stocks, have been trading at a discount to more stable, defensive stocks. Cyclical stocks are more closely tied to the prospects of the economy, compared to defensive stocks, those less tied to the ups and downs of an economic cycle. When we talk of cyclical companies think of homebuilders or auto companies like Ford or General Motors, whereas defensive companies would include a company that makes food products like Kellogg. In a weak economy people are less likely to buy a home or car. Conversely, recession or not, people need to eat, so a food manufacturer's sales change little based on economic conditions.
The chart below shows how cyclicals have done relative to defensive stocks. When the line showing relative performance is below the bold straight line, cyclicals are underperforming. As you can see, cyclicals performed poorly in 2018. We saw somewhat of an upturn in 2019 for cyclicals, but they still have a long way to go before we see cyclicals reach "normal" levels.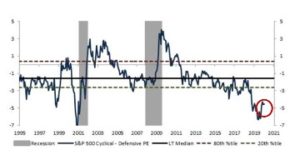 When we see a significant valuation discrepancy between cyclical and defensive companies, we try to take advantage of the situation. We look to purchase particularly high-quality cyclical companies for a discount to where they normally trade. FMC Corporation is an example. FMC is the largest independent manufacturer of crop protection chemicals in the world. Positive changes at the company recently include the purchase of the DuPont crop protection business, greatly expanding FMC's capabilities in that area.
Argent will continue to take a closer look at cyclical companies as long as there remains a significant valuation discrepancy between cyclical and defensive companies. We believe there remain some opportunities given the outlook for growth in the U.S. economy. We have four very successful equity strategies – Large Cap U.S., Small Cap U.S., Dividend Select and Mid Cap U.S. If you know others who might have an interest in our strategies and mailings, please call us.
PDF Version: Mid Cap Market Overview 4Q19
Kirk McDonald, CFA
Portfolio Manager & Senior Research Analyst, Quantitative
Performance results are net of fees. Past performance is no guarantee of future results. This is supplied as supplemental information to the composite disclosures presented later in this document. The information provided in this report should not be considered a recommendation to purchase or sell any particular security. You should not assume that investments in any securities were or will be profitable. A list of stocks recommended by Argent in the previous year is available upon request. Views expressed herein represent the opinion of the portfolio manager as of the date above and are subject to change.