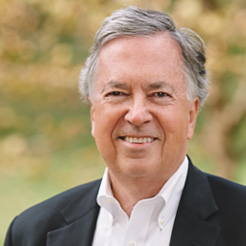 Steven Finerty, JD, CFP
Chairman
Download V-Card
As Argent Chairman and Co-Founder, Steve provides strategic direction to the firm, shares his expertise and analysis of macroeconomic factors with Argent investment teams, and is actively involved with the oversight of high net worth client relationships.
Steve, a Certified Financial Planner™ (CFP), has 44 years of experience in the investment management industry. He graduated magna cum laude with a degree in business from Drake University and also earned his Juris Doctor from the University of Missouri-Columbia School of Law.
Steve's talents serve a number of corporate and nonprofit boards. He is currently Chairman of the Board of the St. Louis Symphony Orchestra and is also currently active on the board of Forest Park Forever, The Muny and the St. Louis Zoo.
In the past, Steve has served as Board Chairman of Forest Park Forever, The Magic House and Community School, and been a member of numerous other non-for-profit and for-profit boards.
Phone: 314.561.4543
E-mail: [email protected]