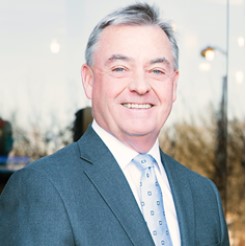 Tom O'Meara, AIF®
Chief Executive Officer
Download V-Card
As Chief Executive Officer and member of the Argent Board of Directors, Tom is responsible for leading strategic planning and directing new and existing growth initiatives for Argent.
Tom, an Accredited Investment Fiduciary (AIF), received his BSBA from the University of Missouri – Columbia in 1973 and his MBA from Saint Louis University in 1976. He began his career at First National Bank in St. Louis, gaining experience in management and corporate, correspondent, and retail banking. Tom joined Moneta Group in 1986 and was one of the firm's most tenured principals. He was named Chairman of the Board in 2014 and added the responsibilities of Managing Partner in 2015.
Active in the community, Tom is a board member of Mental Health America. He served as past Chairman of the Board of the Business Bank of St. Louis, an instructor and guest lecturer in both Finance and Management courses at the University of Missouri – Columbia and St. Louis Community College and as past President of Greenbriar Hills Country Club.