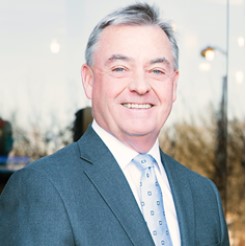 Tom O'Meara, AIF®
Vice Chairman
Download V-Card
Tom O'Meara, Vice Chairman, strives to pave the path for Argent's future. Focusing on strategy, organizational development and talent development, Tom infuses this mindset of an enduring future within all levels of the firm.
Tom's journey began in 1973, when he received his BSBA from the University of Missouri – Columbia, which was soon followed by an MBA from Saint Louis University in 1976. His expertise was further rounded by gaining status as an Accredited Investment Fiduciary (AIF), a designation he maintains today.
Tom's career began with First National Bank in St. Louis, where he gained experience in management and corporate, correspondent, and retail banking. In 1986, he joined Moneta Group and was one of the firm's most tenured principals. He was named Chairman of the Board in 2014 and added the responsibilities of Managing Partner in 2015.
A figure in the St. Louis community, Tom serves as a board member of Mental Health America. He previously acted as Chairman of the Board of the Business Bank of St. Louis, an instructor and guest lecturer in both Finance and Management courses at the University of Missouri – Columbia and St. Louis Community College and as President of Greenbriar Hills Country Club.
With a continued history of building independent businesses, fostering personal development, and going above to serve clients, Tom has served as a key component in building Argent's future.